Posted BY: | NwoReport
Burisma Holdings executive Vadym Pozharskyi informed Hunter Biden in 2016 that he was opening a Maltese bank account for him, emails from Hunter Biden's laptop show.
Pozharskyi was an associate of Mykola Zlochevsky, who allegedly paid Hunter and Joe Biden each $5 million in a pay-for-play scheme. According to Sen. Chuck Grassley (R-IA), an FBI informant document indicates Mykola Zlochevsky allegedly kept 17 audio recordings of his conversations with them as an "insurance policy."
Emails uncovered by the nonprofit Marco Polo suggest Burisma tried to move money to the Bidens through a Maltese bank account set up by Pozharskyi for Hunter Biden.
In May 2016, Pozharskyi requested the documentation required for the account opening, including a copy of Hunter's passport, a bank reference letter, and a utility bill: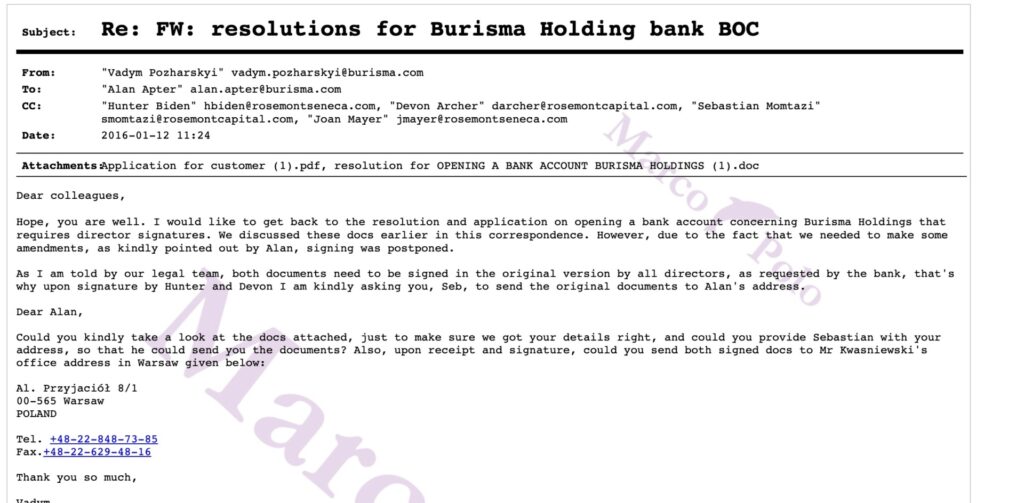 Source: Marco Polo
Hunter responded to Pozharskyi, "We are working on this – I was traveling with my dad and had my passport abroad last week":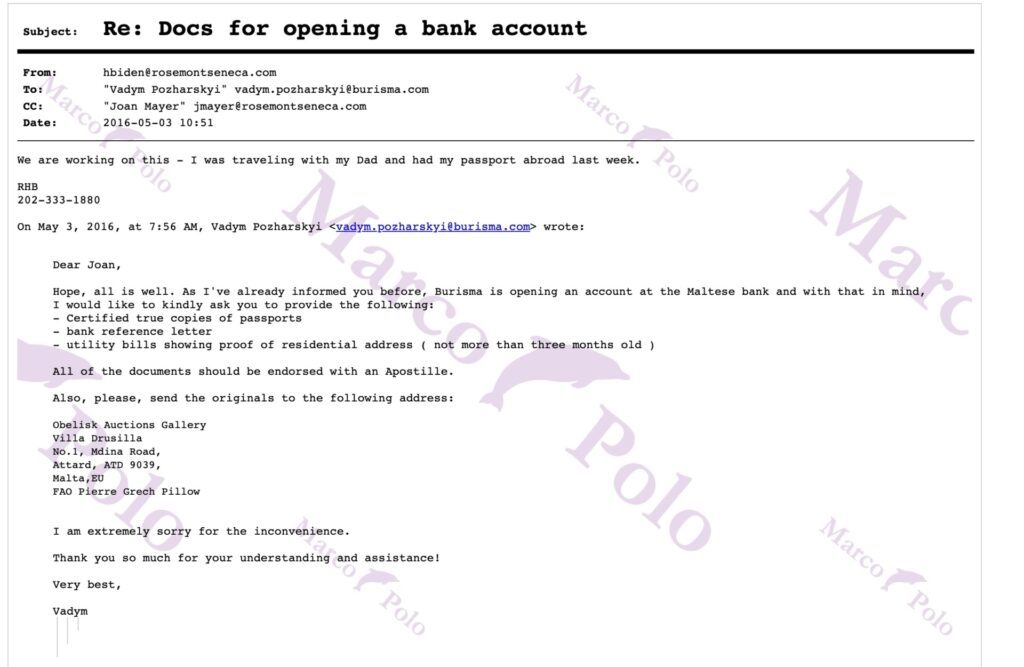 Source: Marco Polo
In the following weeks, Hunter Biden's assistant, Joan Mayer, provided copies of Hunter's documentation at the request of Pozharskyi. Mayer also suggested providing a letter from Hunter's law firm to confirm his annual salary:
Hi Vadym,

We are slowly getting there. Not sure this is helpful but attached is the color passport, utility bill and bank reference letter. They still need to be apostiled though- which we will do when we get these other requested documents.

I just wanted to confirm what is required for "a certified declaration of source wealth including profile"? We can provide a letter from Hunter's corporation, Owasco, confirming his annual salary. Is that what the bank is looking for?