Posted BY: | NwoReport
It's extremely hot in Texas this afternoon. As of 1630 local time Monday, the Electric Reliability Council of Texas, the state's grid manager, reported electricity demand hit a record high of 80,200 megawatts as millions of people cranked up their air conditioners to escape triple-digit temperatures.
The previous record for demand was 80,148 megawatts last July. "That marked the 11th time last summer electricity demand broke the all-time record, and was the first time Texas had exceeded 80,000 megawatts," the Houston Chronicle said.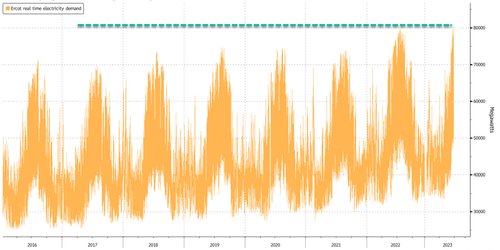 Bloomberg data shows high temperatures across the state will average over 100 degrees Fahrenheit through the end of the month.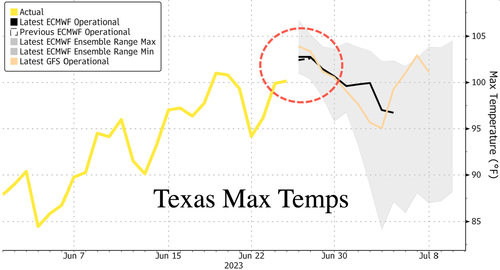 The reason for the scorching temperatures is because of a weather system called a "heat dome" that stalled over Texas, Oklahoma, and parts of Mexico. The system will shift to Arkansas, Louisiana, and Kansas early next month.
The strong high pressure (heat dome) over Texas and Mexico will move northeast, this could bring our hottest temperatures of 2023 so far. Weather Alert days for heat and humidity Thursday and Friday. High temperatures near 100 degrees with the feels like temperature up to 107. pic.twitter.com/o5Ff8Opa1s

— Jim CastilloPhillips (@JimCastilloKSDK) June 26, 2023