Source: Strange Sounds
A "weak explosion" was recorded at Mt. Pinatubo on Tuesday, said the Philippine Institute of Volcanology and Seismology.
PINATUBO VOLCANO ADVISORY
30 November 2021
4:00 PM #PinatuboVolcano pic.twitter.com/42v65uKBLS

— PHIVOLCS-DOST (@phivolcs_dost) November 30, 2021
In its latest bulletin, Phivolcs said the explosion was recorded between 12:09 p.m. and 12:13 p.m.
"The event produced a plume that was detected by the Himawari-8 Satellite and reported to Phivolcs by the Tokyo Volcanic Ash Advisory Center," said Phivolcs.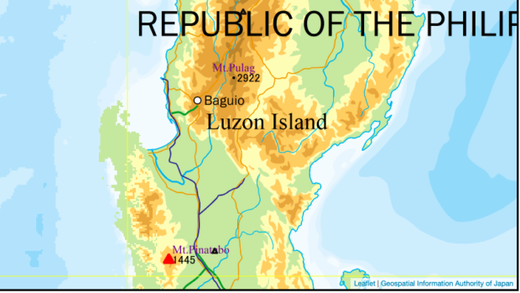 From Tokyo Volcanic Ash Advisory Center
"The seismic and infrasound signals are not typical of known volcanic processes and are currently being evaluated together with other potential sources," it added.
#volcan #volcano #Pinatubo Le VAAC de Tokyo indique un possible panache de cendres mais il pourrait s'agire seulement d'un nuage:en attente de plus d'infos /The Tokyo VAAC indicates a possible ash emission but it could be only a cloud:more info needed pic.twitter.com/BwRHOfZrbS

— CultureVolcan (@CultureVolcan) November 30, 2021
Phivolcs explained that there has only been very low seismic activity in the past days. The Pinatubo Crater Lake yields low diffuse volcanic carbon dioxide flux at only 257 tonnes per day.
However, Phivolcs warned the public not to enter the volcano's vicinity at this time.
30 years from its last eruption, Mt. Pinatubo is now in its active status emitting ash clouds reaching approximately 30,000 feet!

Image CTTO: Capt. Aljess Lasmarias pic.twitter.com/Zz20PjmgJf

— Regel Asuero (@rkasuero) November 30, 2021
Local government units were advised to prohibit entry into Pinatubo Crater "until the source of the above explosion event has been determined and to report to us any related information."
"Communities and local government units surrounding Pinatubo are reminded to be always prepared for both earthquake and volcanic hazards and to review, prepare and strengthen their contingency, emergency, and other disaster preparedness plans," Phivolcs said.
Mt. Pinatubo last erupted on June 15, 1991, and was considered the second-largest eruption of the 20th century. [Inquirer]