A government agency requesting censorship from a private company.
Source: Dan Frieth
An email obtained through a freedom of information request revealed that an FDA representative wanted Google to remove a video posted on YouTube about a potential treatment for COVID-19. The FDA attempted to hide the communication; journalist Alex Berenson obtained the email by chance.
According to the email, sent on April 30, the FDA's director of social media Brad Kimberly told Google lobbyist Jan Fowler Antonaros that the agency wanted YouTube to remove the video, which was promoting a new treatment for COVID-19.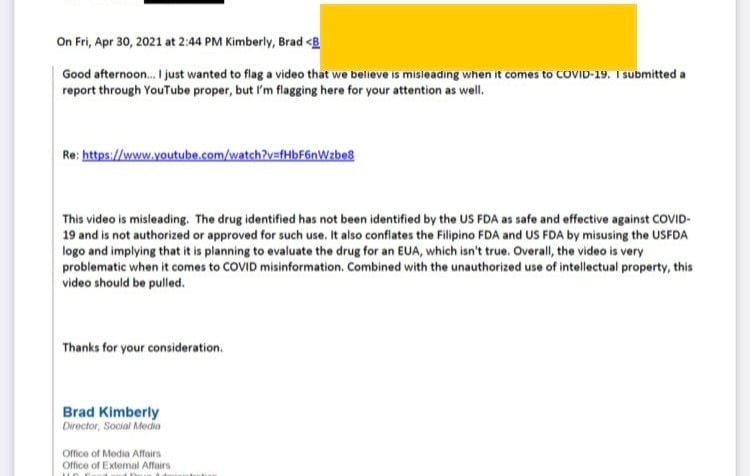 "Overall the video is very problematic when it comes to COVID misinformation," Kimberly wrote. "This video should be pulled."
YouTube refused to remove the video, initially. However, the video is no longer available.
It is not clear how often the FDA makes such content removal requests to social media companies.
In October, Berenson sent a freedom of information request to the FDA asking it to provide all internal discussions about him and communications with social media companies about COVID-19 misinformation.
The agency responded on November 30 and said that it could not find any communications with social media companies that met Berenson's request.
However, at the bottom of their response, the agency attached the email exchange between Kimberly and Antonaros.
The video that the FDA wanted to be removed promoted a monoclonal antibody treatment called leronlimab developed by a small pharmaceutical company called CytoDyn. But, according to clinical trials, the drug is not effective against the coronavirus.
In a statement in May, the FDA said it would not approve the drug because "the data currently available do not support the clinical benefit of leronlimab for the treatment of COVID-19."
Antonaros response to Kimberly in May was that YouTube had reviewed the video and did not find it to be in violation of community guidelines. However, the video is now not available on YouTube.
According to Berenson, the FDA might have asked for censorship in fear of a corporate or patient-driven campaign for the approval of a new treatment that did not have any benefit. However, no matter how much patients or a company complains, the FDA gets to decide what drugs become available to Americans.
It is new for the FDA to actively fight such campaigns by removing them from the internet.