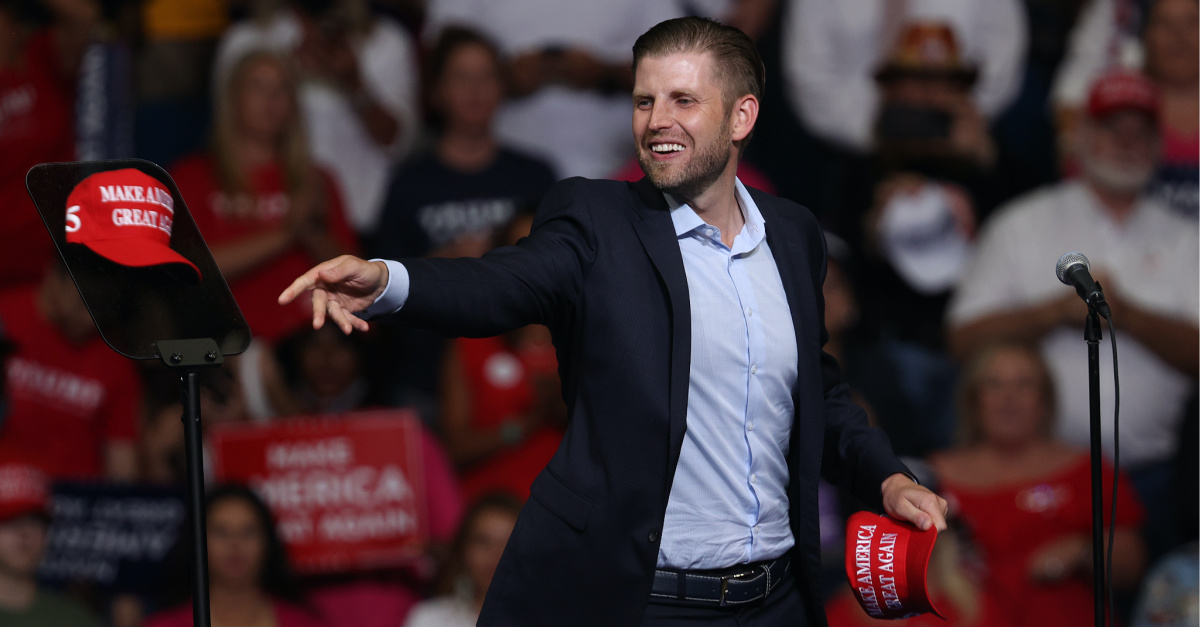 Source: Milton Quintanilla | Contributor for ChristianHeadlines.com
Eric Trump, President Donald Trump's second son, was one of the featured speakers at an outdoor Evangelicals For Trump rally in Cummings, Georgia on Tuesday.
According to Christian Premier News, Eric Trump told attendees how God has bestowed favor on his father throughout his first presidential term and that "God got us here."
"I really believe that he was a chosen person. In the Bible, it's always an imperfect person, and my father has said things that have gotten him in trouble time and time again," the president's son said.
"I really believe my father was put here for a reason. I believe it was because of a higher deity, entity, I really believe that. I believe it is why the Evangelical community has rallied around him," he added.
Trump noted that faith played a contributing factor in ensuring his father's success during the 2016 election.
President Trump's senior faith advisor Paula White also spoke at the evangelical rally as she touted Trump's achievements.
Also present was Rev. Tony Suarez, an evangelical advisor, who noted how Hispanic Americans have prospered under President Trump.
A prayer section at Tuesday's rally opened up with 2 Chronicles 7:14 which reads, "if my people, who are called by my name, will humble themselves and pray and seek my face and turn from their wicked ways, then I will hear from heaven, and I will forgive their sin and will heal their land."
The Bible verse is considered to be a favorite amongst the Trump administration and campaign.
The Faith and Freedom Coalition distributed leaflets at the rally that compared the policies between Trump and Democratic Presidential nominee, Joe Biden.
"There were two booths registering voters as well as the @FaithandFreedom coalition handing out these guides" Kate Shellnutt, senior news editor for Christianity Today, wrote on Twitter, attaching a photo of a pamphlet distributed at the event by the Faith & Freedom Coalition.
There were two booths registering voters as well as the @FaithandFreedom coalition handing out these guides: pic.twitter.com/PzxvpQvUEI— kate shellnutt (@kateshellnutt) September 15, 2020
Shellnutt, who attended Tuesday's event, noted how the crowd differed on Trump's chances of winning re-election in November.
"Nearly all believe he will win. Some say it'll be a landslide. Some say it'll be very close." she stated.
Photo courtesy: ©Getty Images/Win McNamee/Staff