Posted BY: | NwoReport
The Home Depot is cashing in on the tiny house craze as millions of Americans are priced out of homes due to the worst housing affordability crisis in a generation.
Called the "Getaway Pad," the 540-square-foot kit home has enough space for a living room, kitchen, one full bathroom, a bedroom, and a rooftop deck accessible by a spiral staircase. The "framing kit" costs $43,832.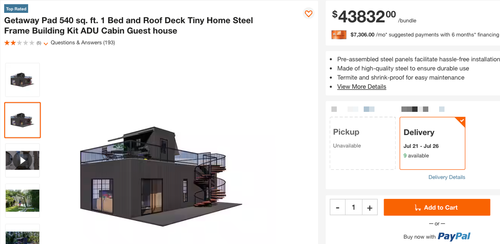 The tiny home is a framing kit made by PLUS 1. Home Depot said, "Most finishings you'll need to complete your personal space such as doors, windows, electrical, plumbing, and finishes" are available on its website or at stores. This means the home could cost thousands of dollars more, depending on how one furnishes the inside.
Home Depot's tiny home kit indicates increasing demand for small dwellings. And that's because the National Association of Realtors and Realtor.com recently revealed 75% of homes are too expensive for middle-class buyers.
Millions of Americans have been priced out of the market due to high mortgage rates and elevated home prices due to the lack of inventory. However, buying land and building a tiny home has been a trend in recent years and gaining momentum as the working class has been hit with more than two years of negative real wage growth.
Some middle-class buyers have abandoned the 'American Dream' of owning a home with a white picket fence and opted for affordable mobile homes. A recent report from the RV Industry Association found mobile home demand surged in the first three months of 2023.
Affordability is also unlikely to improve until mortgage rates decline, which means middle-class buyers stuck in a cycle of renting might want to search for land in a rural area and build a tiny home to escape the inflation storm.