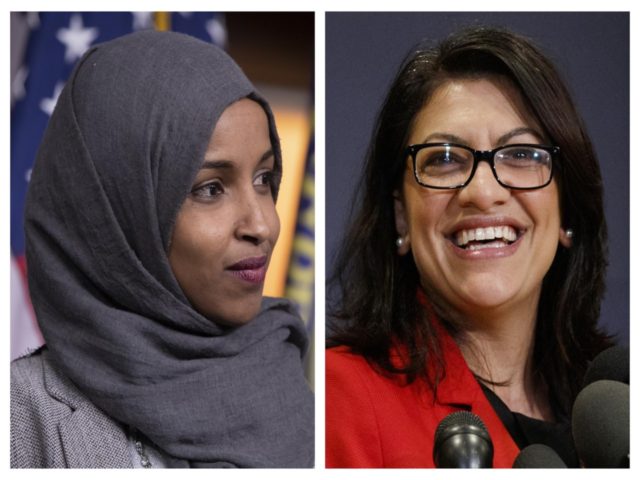 Source: Aaron Klein
NEW YORK — Reps. Ilhan Omar and Rashida Tlaib introduced a resolution today aimed at supporting the antisemitic Boycott, Divestment and Sanctions (BDS) movement, which targets the Middle East's only democracy.
The extremist legislation comes one day after the Democrat-controlled House passed a resolution claiming that President Trump made "racist comments" about four far-left Democratic congresswomen, including Omar and Tliab, known for their controversial remarks about the U.S.
"We are introducing a resolution … to really speak about the American values that support and believe in our ability to exercise our first amendment rights in regard to boycotting," Omar told Al-Monitor. "And it is an opportunity for us to explain why it is we support a nonviolent movement, which is the BDS movement."
At a House hearing on Tuesday about the resolution, Omar went so far as to compare boycott movements like the anti-Israel BDS campaign to the Boston Tea Party.
The text of the resolution makes a similar comparison, stating, "Boycotts have been effectively used in the United States by advocates for equal rights since the Boston Tea Party."
In her speech about the resolution, Omar likened Israel, which goes to extreme lengths to minimize civilian casualties, to Hamas, a terrorist group which deliberately targets civilians and routinely utilizes civilians as human shields. Omar stated that she condemns "in the strongest terms violence that perpetuates the occupation whether it is perpetuated by Israel, Hamas or individuals."
The BDS movement tweeted that it "warmly welcomes" Omar's resolution.