Source: Hannah Osborne
A large great white shark has been found dead on a beach in New Zealand.
The shark washed up on Omaha Beach, towards the top of the country's North Island. A necropsy is planned to determine the cause of death.
Images of the shark were shared by Jenny Marcroft, a broadcaster and former Member of the New Zealand Parliament, on Twitter. One of the images is a close-up of the sharks' mouth and snout. Another shows more of its body, while a third showed the shark's entire body.
The pictures were posted to the Facebook page of the Mahurangi Matters newspaper. The post said the body has been taken to Massey University where the autopsy will take place.
Mahurangi Matters also said the shark had been named Mangatawhiri by Terrence "Mook" Hohneck, chairman of the Ngāti Manuhiri Settlement Trust. Mangatawhiri is the traditional name for Omaha.
The discovery of the shark's body comes as Marine Biologist Riley Elliott has said part of the coast off New Zealand's North Island is becoming a "major hotspot" for great white sharks, for "unknown reasons."Newsweek subscription offers >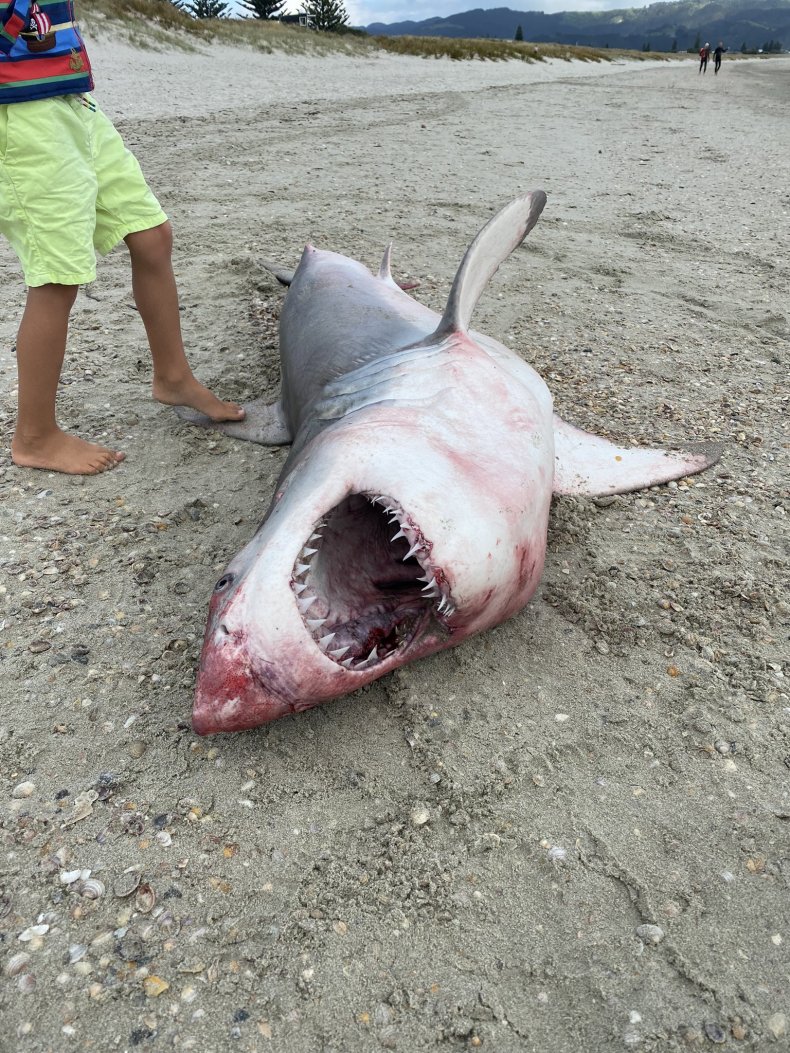 Elliot told 9news.com.au he is hoping to launch an investigation into the significant increase in white shark sightings in the Bowentown area and is currently waiting for approval from the Department of Conservation.
"In the last three years around the Bay of Plenty there's been a massive increase in human and great white shark encounters," he said. "I myself identified 15 juveniles from just peoples' photos alone, which were sent to me last summer. Unfortunately, a lot of people fish around there so sometimes it doesn't end too well for the shark.
Elliot said he believes the shark found on Omaha beach had become trapped in fishing nets.
Stu Curd, from the Bowentown Boating & Sport Fishing Club, has lived in the area for 20 years. He told the New Zealand Herald that he believes great whites are coming to the area for the fish. "Five years ago, someone said there was a Great White in the harbor and I thought, 'oh no, they're just talking rubbish.' Now the stories are twice weekly about someone catching or seeing a white," he told the newspaper.
Great white sharks are considered a vulnerable species and their population is believed to be decreasing. They are a long-lived species, take decades to reach sexual maturity, and have few offspring. This puts the species in a precarious situation, with research from 2020 suggesting they could go extinct in the next 100 years.