The fourth wave must be broken, and this has not yet been achieved…'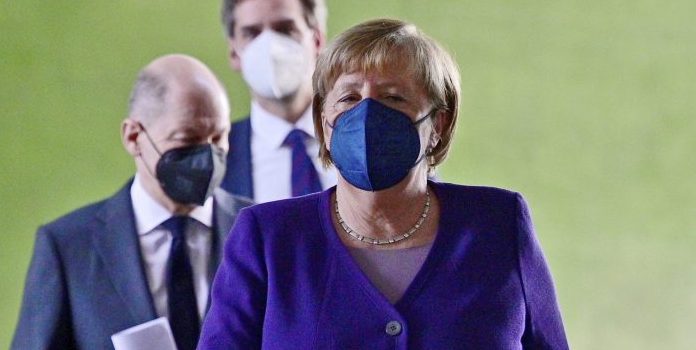 Source:
(Gregg Pupecki – Headline USA) As COVID again roils Europe, over 30% of Germans are facing strict lockdowns and mandatory vaccine injections reported CNN.
Outgoing German Chancellor Angela Merkel, as one of her last acts in office, created a German underclass, a society where some citizens have more rights, privileges, and freedoms than others. This new underclass is called the "unvaccinated."
Merkel announced new lockdowns for the unvaccinated, taking away their freedom to participate in German society. Only those newly vaccinated or recently recovered from COVID will be allowed basic freedoms. According to Germany's National and Regional Leaders, you won't be considered vaccinated unless you are current in your shots.
Merkel said a person's vaccinated status will be lost after nine months unless another shot or booster is taken. The German lockdown of the unvaccinated will all but eliminate freedoms in public, only allowing for "essential" trips to pharmacies and grocery stores. Merkel described these restrictions for a specific group of people as an act of "national solidarity."
"The fourth wave must be broken," she proclaimed, "and this has not yet been achieved."
The government is also pushing for Parliament to pass a law mandating injections for all German citizens. Merkel's successor, Olaf Scholz, supports these measures.
Governmental forced medical procedures have already been approved in Austria, where they currently have around two million unvaccinated people on strict lockdown, reported the Guardian. Unvaccinated Austrians are only allowed to leave their homes for "essential" reasons like work, shopping for food or medical care.
The unvaccinated risk large fines, penalties, and prison if caught and unable to produce medical papers when asked by police. Austria begins forced inoculations in February with steeper penalties for noncompliance.
The Austrian law also allows electronic health records to be linked with newly created centralized vaccination registers. In a similar action, The United States House Of Representatives just passed a bill that would create and fund a federal vaccination database to track U.S. citizens' status. Eighty Republicans voted for the bill.
Several other European countries are considering following Austria and Germany's lead in limiting the freedoms of the unvaccinated.
Greece, for example, has announced that it is mandating COVID-19 vaccinations for residents over age 60 — and those who don't comply will face a monthly fine.