Source: Zachary Stieber
No U.S. military branch has granted a request for religious accommodations from the COVID-19 vaccine mandate, military officials said in court filings Friday.
Over 16,000 U.S. service members have submitted applications for a religious exemption from the vaccination requirements, according to court documents. The Air Force has seen the most, by far, with 11,070.
The Air Force acknowledged earlier this month it approved zero religious exemption requests but officials there and at other branches had refused to say how many applications were filed. The Army, Navy, and Coast Guard had not previously released any data relating to religious accommodation requests.
Military officials have said they're following processes in reviewing the applications and deciding whether they are legitimate. But the new filings show that in addition to approving zero religious accommodation requests from the COVID-19 vaccine mandate, military officials have approved just a handful of accommodation requests from other vaccines in recent years.
The Army, for instance, received 17 such requests since 2019. All were denied, Brigadier Gen. Matthew Smith, deputy director of operations, readiness, and mobilization for Army headquarters, said in a court filing.
The Marines also rejected all such requests dating back to 2016, Marine Capt. Mark Reid said, while the Coast Guard approved just two of 23 such requests in the past 10 years, according to Commander Sharon Russell.
Lawyers representing service members applying for religious and medical exemptions have told The Epoch Times that military leadership has brought enormous pressure to bear on troops to get vaccinated. They said that officials largely appeared to be stalling on ruling on requests to try to discourage troops from filing them.
The Army has approved or denied none of the 114 requests under review and the Coast Guard has not adjudicated any of the 818 requests it's received, officials said.
Some requests have been adjudicated, the filings show. All have been denied.
The Navy has adjudicated 419 requests, Capt. Mery-Angela Sanabria Katson said. No religious ones have been granted. The Marines have rejected at least 256 of the 2,266 religious accommodation requests, Reid said. They have also denied one of the appeals lodged. The Air Force has turned down 688 of the 11,070 religious exemption applications, according to Holbrook. No rulings have been made on the 170 appeals filed thus far.
A small number of medical exemptions have been granted. The Navy, for instance, has granted six permanent medical exemptions. The Marines have granted 14 such exemption requests.
Many troops remain unvaccinated, military officials reported. That includes approximately 25,000 active-duty soldiers.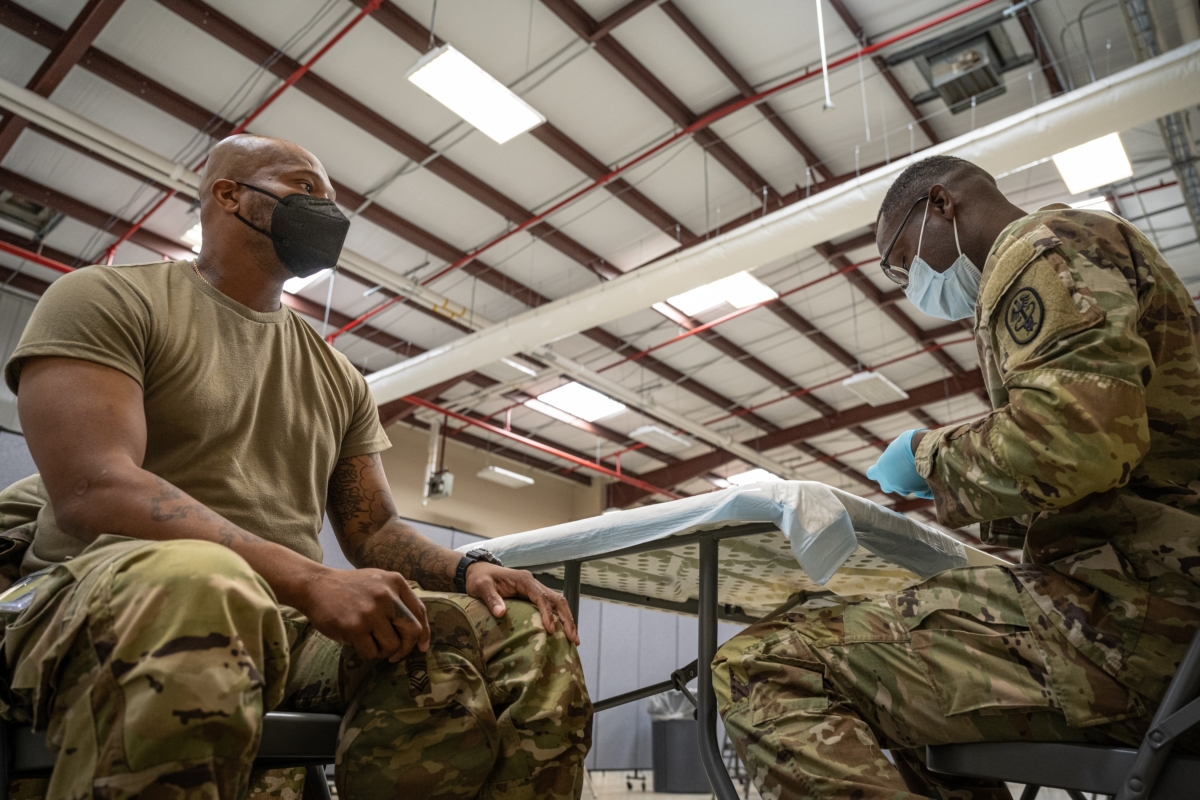 The filings came in response to a court order in Navy Seal 1 v. Biden, a federal class-action case launched by service members last month. Plaintiffs include two Marine lance corporals and an Air Force major.
"Joe Biden imposed an illegal order to force every active and reserve service member to get the injections and compounded his illegal actions by depriving these military heroes of their constitutional and legal rights to religious exemptions. Biden's Department of Justice knew two weeks ago when the court ordered the release of this critical information that this day of accountability was coming and yet not one person's religious accommodation request has been granted. This is telling and will not bode well for their defense," Matthew Staver, founder and chairman of Liberty Counsel, which is representing the troops, told The Epoch Times in an email.
"It is clear that all roads in the military lead to denial of all religious requests," he added.
Members whose requests are rejected face punitive measures, including possible court-martial, according to the new filings.
One of the plaintiffs said this week he was removed from his leadership position on Nov. 1 after appealing an accommodation request denial.
Lawyers urged the court in a brief Thursday to immediately block the mandate, as well as two mandates issued by President Joe Biden against federal contractors and employees.
"The testimony before this court demonstrates the immediate and irreparable harm that plaintiffs and other members of the class are facing right now," they wrote.
The Pentagon, which did not immediately return a request for comment, has defended how the branches are carrying out Secretary Lloyd Austin's August vaccine mandate.
"The secretary is pleased by the level of effort that the military departments have taken to enact this mandatory vaccine regimen," John Kirby, the Pentagon's press secretary, told reporters earlier this month.
"He's not unmindful of the fact that in each of the military departments there are some members who are declining, refusing to take the vaccine, some that are applying for the exemptions, some exemptions that are being granted," he added.