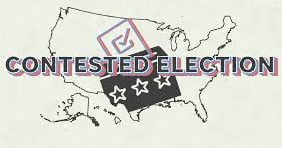 Source: Mac Slavo
The plans for the 2020 election have been in the works for a long time, and Donald Trump and Joe Biden are both playing their roles well. There have already been promises of a horrifying and violent election response, and if we pay attention, we already know who is going to "win."
Since we know that our votes don't matter, the elitists choose the president and most of Congress and the Senate, we can look at their "secret election model" to see what they have planned for after the election. It'll be nothing short of inorganic terrorism committed by the government at the commands of the Federal Reserve against the American people.
Another Secret Model: A Contested 2020 Election
Their model predicts that the worst case scenario will be a win for Trump in the electoral college with Biden getting the popular vote. It won't matter though, because neither side will accept the results, they've already said as much, and now Trump is saying that his supporters should try to vote twice to "test" the mail in voting system.
You can't make this stuff up! This entire system is such a scam, it's getting a little sad that people aren't seeing this. Most people are going to vote showing the system they support the illusion and their own enslavement.
Manipulating The Masses: Edward Bernays & Why The System Needs Your Compliance
It's continually getting worse too. Donald Trump has proposed that voters in North Carolina cast their ballots twice to test the state's mail-in voting system, prompting criticism that he promoted the same "fraud" his detractors insist was impossible, according to a report by RT. "Well, they'll go out and they'll vote, and they're going to have to go check their vote by going to the poll and voting that way, because if it tabulates, then they won't be able to do that," the president told reporters during a visit to North Carolina on Wednesday when asked about his confidence in mail-in voting.
Trump's suggestion prompted cries of "voter fraud" from leftists. They are gearing up for voter fraud and a contested election from both sides.
We are being played. The only way to win their rigged game is to refuse to play anymore. Stand up, be aware of what's going on, prepare, and refuse to live in fear. That's the best solution right now. It isn't easy to wake up and realize you've been played but it's imperative if you do not wish to be a slave to the elitists.