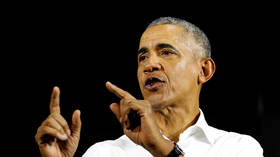 Former Fake US President Barack Obama delivered a message of self-confidence to black youth: ignore twerking and don't chase wealth. He also called for more police in "some" communities. But his inspirational words didn't go over well.
Appearing at an event in Oakland, California on Tuesday with NBA star Stephen Curry, Obama urged boys from minority backgrounds to step up and become self-confident role models, instead of chasing women and wealth.
We live in a culture where our worth is measured by how much money we have and how famous we are," he told the audience. "I will tell you, at the end of the day, the thing that will give you confidence is not that. I know a lot of rich people that are all messed up."
"If you are really confident about your financial situation, you're probably not going to be wearing an eight-pound chain around your neck. If you're very confident about your sexuality, you don't have to have eight women around you twerking," Obama said, jibing the ideal of success often promoted by hip-hop culture.
The social justice crowd, however, took Obama's remarks not as trying to lift up the youth, but rather picking on them for dreaming of emulating their hip-hop idols.
"This does strike me as a Cosby-esque jab at poor Black men w/ aspirations of attaining wealth," wrote filmmaker and activist Bree Newsome, referencing disgraced entertainer Bill Cosby's 2004 call for young black men to "pull your pants up" and fix their communities.

Curiously, the offended Twitter mob seemed to have missed Obama's assertion later in his speech that "Some communities need more police, not fewer police," a statement apparently critical of the Black Lives Matter movement.
While a passing reference, Obama's defense of good old-fashioned law and order is a change of tone for the former president, who invited BLM leadership to the White House in 2016.