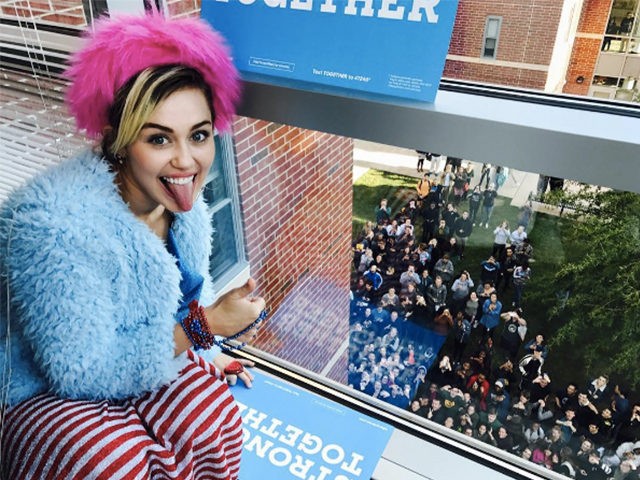 Pop star Miley Cyrus's visit to George Mason University last month to knock on students' dorm room doors in a get-out-the-vote effort for Hillary Clinton probably didn't come as much of a shock to the students with whom she spoke, because each of the students was selected to participate in advance — and some at the school are upset at what they say was a "staged" photo opportunity for Clinton-supporting fans of the singer.
As Breitbart News previously reported, Cyrus was at George Mason University on Saturday, October 22 to campaign for Clinton by knocking on students' dorm room doors and speaking with them about the importance of early voting.
But according to emails between a university administator and a parent of a student at the school, provided under a state public records request by the nearby Americans for Limited Government Foundation, the event was little more than a university-coordinated photo opportunity, as the students Cyrus was to meet with had already been pre-selected to participate.
In response to a parent who wrote to express her concern for her daughter's safety in the dormitory during the event, Dr. Thomas Hardy, Assistant Dean for University Life and and Chief Housing Officer at George Mason, said that Cyrus was allowed to visit the dormitory because she was a "guest" of one of the building's residents.
"Ms. Cyrus visited previously identified students as a pre-approved guest of those rooms," Hardy explained. "She was escorted by her host at all times, and there was no random door knocking, as that would be solicitation — which is a violation of residence hall policy."
Hardy's email also explained that Cyrus was "isolated to one floor of one residence hall," and was not allowed to visit the rest of the dormitory.
It was not immediately clear whether the university or the Virginia Democratic Coordinated Campaign, which helped set up the event, paid security or related costs for the event. George Mason University is a public university, which receives taxpayer money for funding. The university has not released any documents under the public records request indicating that the Clinton campaign reimbursed the university for its security and related costs. The records request specifically asked for such information.
The day before the scheduled visit, David Farris, Executive Director of Safety and Emergency Management at the university, emailed Cyrus' security contact Devin Greaney and Maverick Artists manager Adriana Arce with a tentative plan for security arrangements for the event.
The tentative schedule included a brief, five-minute stop for Cyrus at the Piedmont Hall building on campus, where the singer was scheduled to pose for a photograph with George Mason University president Angel Cabrera and his family before heading to the residences to begin speaking with students. The schedule also provided for the closure of at least two streets in the area, and a police escort for Cyrus off the premises once the event was completed.
It was not immediately clear whether the final schedule matched the tentative schedule sent by Farris.
Dr. Hardy, Farris and Greaney did not immediately respond to requests for comment from Breitbart News.
The Cyrus event left some at the school outraged, including junior Natalia Castro, who said the partisan event ruined her school's reputation.
"What happened on my campus did not seem like campaigning but rather a publicity show which kept students disrupted from their daily tasks and prevented reasonable access to dorm halls," Castro, who is majoring in Government and International Policy, told Breitbart News in an email. "I'm outraged my school participated in this publicity move. It was intrusive, theatrical, and provided no space for political discourse. Rather than fostering an environment of political activism, Mason facilitated a Hillary Clinton press stunt."
Castro added that she was assured by Republican organizations on campus that Cyrus's visit would be followed by a visit from Donald Trump's daughter, Ivanka Trump, but the student said that visit never materialized.
One parent of a George Mason student, whose name was redacted in accordance with public records request protocol, demanded to know why the Cyrus event was allowed to occur, in an emailed letter sent to Dr. Hardy.
When Hardy replied that the event was strictly controlled and the students pre-selected, the parent replied that he found it "upsetting" that his daughter was being used as part of a "publicity stunt with university backing."
Cyrus wasn't the only pop star to visit a college campus that Saturday. Katy Perry visited the University of Nevada Las Vegas and similarly knocked on students' dorm room doors.
A request for comment from Lenora Hanks, who helped set up the Cyrus event on behalf of the Clinton campaign, was not immediately returned Thursday afternoon.