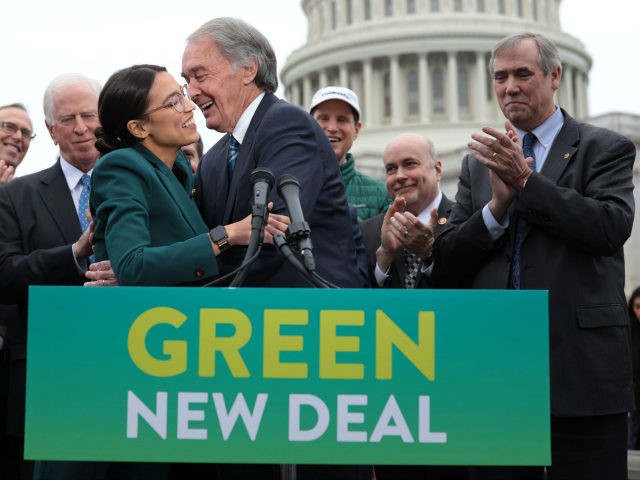 Congressman Alexandria Ocasio-Cortez's (D-NY) radical Green New Deal would cost over four times the national debt, according to a study released on Monday.
American Action Forum (AAF), a conservative non-profit run by former Congressional Budget Office (CBO) director Douglas Holtz-Eakin, released a study on Monday which found that Ocasio-Cortez's Green New Deal could cost somewhere between $51 and $93 trillion over the next ten years.
America's current national debt surpassed $22 trillion this year, which means the Green New Deal could cost more than four times the national debt.
"The Green New Deal is clearly very expensive," AAF said in its report. "It's further expansion of the federal government's role in some of the most basic decisions of daily life, however, would likely have a more lasting and damaging impact than its enormous price tag."
AAF wrote that the Green New Deal figure includes between $8.3 trillion and $12.3 trillion to meet the climate activists' plan to eliminate carbon emissions from the power and transportation sector, and $42.8 and $80.6 trillion for its economic agenda, which will provide jobs and health care for every American.
Climate activists suggest that not acting on climate change may become more expensive than the plan. Ocasio-Cortez and Sen. Ed  Markey's (D-MA) plan referenced a United Nations report which said that catastrophic climate change could cost more than $500 billion annually in lost economic output by 2100.
Markey tweeted on Monday that the study had "artificially inflated" the cost of the Green New Deal.
Markey wrote, "Any so-called "analysis" of the #GreenNewDeal that includes artificially inflated numbers that rely on lazy assumptions, incl. About policies that aren't even in the resolution is bogus. Putting a price on a resolution of principles, not policies, is just Big Oil misinformation."
Ocasio-Cortez questioned on Sunday whether people should stop having children to combat climate change.
"Our planet is going to hit disaster if we don't turn this ship around and so it's basically like, there's a scientific consensus that the lives of children are going to be very difficult," Ocasio-Cortez said. "And it does lead, I think, young people to have a legitimate question, you know, Is it okay to still have children?"
In January, the New York progressive suggested that the world will end in 12 years if the world does not address "climate change."
"I think that the part of it that is generational is that millennials and Gen-Z and all these folks that come after us are looking up and we're like, 'The world is going to end in 12 years if we don't address climate change,' and your biggest issue is–your biggest issue is, 'How are we going to pay for it?'" Ocasio-Cortez said. "And, like, this is the war; this is our World War II."