Vehicle slowly rolling through crowd still gets attacked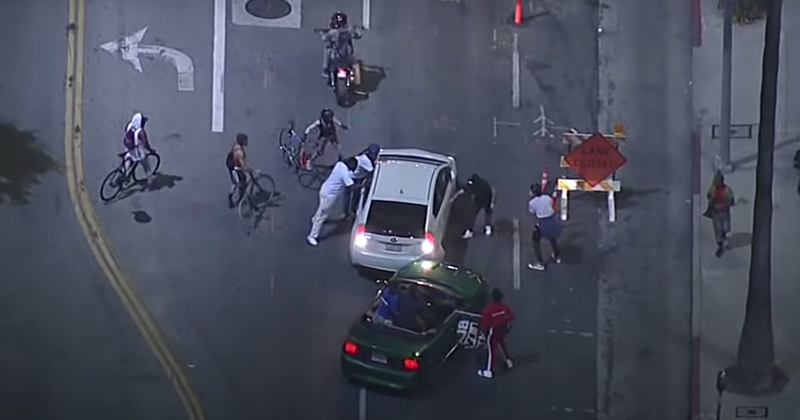 Source: Kelen McBreen | Infowars.com 
During Thursday night's Breonna Taylor riots in Los Angeles, California, a car carefully driving through the crowd was surrounded, vandalized and chased down before the mob tried to physically pull the driver out of the vehicle.
Despite the car slowly making its way through the protest, BLM supporters immediately jumped on the hood and started banging on the sides, causing the driver to flee.
After driving away without injuring anyone, the mob chased down the vehicle on foot and in a pair of their own automobiles.
A truck full of BLM/Antifa rioters cut the car off, jumped out and started to destroy the vehicle they chased down.
One man punched the driver through the window and attempted to pull him out of the car while others smashed the vehicle's windows.
A man can be seen breaking the car's rear window using his bicycle.
As the frightened driver was being assaulted and his car was being smashed, he backed into another vehicle that had been chasing him down and sped off.
At some point, the driver who was being hunted down by the violent group was pulled over by police and arrested.
See two different angles of the incident below:
Another incident involving vehicles and protesters took place in Los Angeles on Thursday night when a truck ran into a demonstrator who was blocking the road.