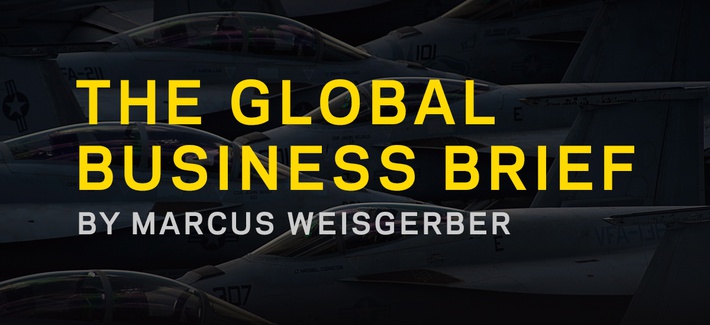 Marcus Weisgerber
Every year we come up with a list of the top 10 business-focused stories of the year. We'll do the same next week. But I want to take a deeper dive into the defining trends of 2016 and how they could shape 2017.
It's been a busy race to the 2016 finish line. The Obama administration is scrambling to wrap up unfinished business and the incoming Trump administration has been posturing nonstop, giving us tons to write about. Get ready because if the past month has been any indication it's going to be a wild ride as new leaders enter the Pentagon. We'll be right here with you, breaking it all down. But first, let's take some time to reflect on 2016 as we look ahead to 2017.
President Trump
Donald Trump's election win was clearly a surprise to most and it has opened pandora's box with speculation of how he will govern the Pentagon. It turns out, two tweets by Trump might might have more of an impact on the business of defense than years of acquisition reform efforts. "We've never seen anything like this and have to admit there is a strong probability that the President-elect will be a very hands on government buyer," Cowen's Roman Schweizer, wrote Wednesday, the same day Trump met with the CEOs of Boeing and Lockheed, and a handful of Pentagon brass. Trump said the purpose of one meeting was "trying to get costs down, primarily the F-35 because it is a program that is very expensive." After his meeting with Marillyn Hewson, the chairman, CEO and president of Lockheed, Trump said: "It's a beginning. It's a dance. But we're going get the costs down. And we're going to get it done beautifully." He clearly is the one leading.
The Defense Budget
For the business community, the big question is whether Trump will be able to increase defense spending to pay for all his campaign promises. Even before the election, we told you it would be difficult for Trump or Hillary Clinton to raise the defense budget since Pentagon budget caps remain law until 2021, even though there are ways around them. Trump's picking Rep. Mick Mulvaney, R-S.C.— a deficit hawk — as his director of the White House Office of Management and Budget — is a signal that a massive, Reagan-esque build-up is not likely unless, as several investment analysts pointed out this week, cuts in other non-defense government programs are found. We've noticed that despite early hopes that the spigot would be wide open, defense executives appear to be tamping expectations, particularly after Trump's tweets about the high cost of a new Air Force One and the F-35 Joint Strike Fighter.
Service Brass Posturing
The Army has been saying it needs more soldiers for two-plus years and that's not expected to go away. The Air Force this week put a stake in the ground saying it needs 30,000 more airmen. The Marine Corps says it needs 8,000 more Marines. All of those personnel increases impact other things, like the number of armored trucks, helicopters or planes. Just how many of those items have not yet been articulated. Not the case when it comes to the Navy. It's come right out and said it needs 355 ships. We're not talking small Littoral Combat Ships either. We're talking more aircraft carriers, amphibs, large surface combatants and attack submarines. That's a lot of money for shipbuilders. The Air Force has a bunch of new projects on the horizon itself. The Army does not. It has a big engine program to replace give the Blackhawk and Apache more power and Future Vertical Lift, a massive helicopter project that will replace all of its choppers in the 2030s. The big question now, particularly if budgets increase, is if they work to accelerate these two projects, or buy more armored vehicles.
The F-35's Roller Coaster Ride
It's been a wild year for the F-35 Joint Strike Fighter. The project has been on much firmer footing since the Pentagon put in place a new course of action in 2011 and officials wanted the public to know about it. The jet went to Europe twice, making its much-anticipated debut at the Farnborough Air Show, and Denmark said it would buy the plane. The Air Force declared some of its jets ready for war and Israel received its first two planes this month. Two Air Force officers even detailed how the jet would be used in a war with China. I visited the F-35 factory in Fort Worth, getting a first-hand look at the massive expansion underway as Lockheed readies to start cranking out more than 100 planes each year for the U.S. military and allies. But on the other side of the coin, less than two months after the Air Force said its jets were ready for war, they were grounded due to faulty insulation. (They've since been fixed.) The Pentagon and Lockheed couldn't reach an agreement during contract negotiations for 57 jets, so the government imposed a take-it-or-leave-it deal. Canada opted to buy Super Hornets instead of F-35s, for now. Two jets caught fire, an Air Force F-35A in September, and a Marine Corps F-35B in October. The issue that caused the latter has been identified, a faulty wiring bracket, and is being fixed by installing a new bracket, said Lt. Gen. Chris Bogdan, the program boss, this week. Earlier this month President-Elect Trump called the program "out of control," a point disputed by Pentagon officials. But at the same time, the project might need an additional $532 million to finish flight testing. Next year, the Marine Corps is planning to send F-35 to Japan and Air Force might send the jet to Europe.
A Reset at Boeing
It's been a year of change at America's largest aerospace manufacturer. The shake-up began in February not long after Boeing and teammate Lockheed Martin lost an $80 billion contest to build new stealth bombers for the Air Force. Since then there has been turnover at the top. Leanne Caret was named CEO of the firm's defense business. Her hands-on approach to management has led to Boeing's recent decision to move its defense headquarters to the Washington, D.C. area near the Pentagon. A new head of Boeing's commercial business is now in place, plus a new maintenance business is being stood up for commercial and defense products. Heading into 2017, we'll be tracking the company's progress building the KC-46 tanker, which had setbacks this year after troubles refueling planes (it's since been fixed). Then there's the new T-X trainer, which Boeing is trying to win. We'll get to that a little bit further down. Keep reading!
Obama's Record Foreign Arms Sales: $323 Billion
I write a lot about foreign arms sales, and if you've been reading lately you've realized I've spent some time tracking how the Obama administration has approved more than double the number of foreign arms sales approved by George W. Bush's administration. Today that total stands at more than $323 billion thanks to a just-approved $1.75 billion deal of five Boeing P-8 submarine-hunting planes for Norway. We'll be watching to see how Trump's administration approaches foreign sales and whether there is any shift away from the massive number of sales to Middle Eastern allies, like Saudi Arabia.
The One Contract The Entire Defense Industry is Chasing
The Air Force is expected to choose a winner to build 350 jets for pilot training that will replace the T-38 Talon, a plane flying since the 1960s. The field is full of companies, large and medium-sized, foreign and domestic. Some firms are pitching new planes, others existing ones, meaning it should be interesting to see which one the Air Force chooses. Just to recap, the planes in contention are: Lockheed Martin and Korea Aerospace Industries T-50; Raytheon and Leonardo T-100; a new Boeing and Saab jet; and a new Northrop Grumman jet. Last week Sierra Nevada and Turkish Aerospace Industries said they would pitch a new plane dubbed the "Freedom Trainer" and Textron might enter its Scorpion in the contest.
Honorable Mention
Clearly there's lots more that happened in 2016 and since we can't include everything, here are a few others of note. The A-10 Warthog will live on as the Air Force ditched immediate plans to retire the attack jet. In plane news, we'll continue to track how the F-35 competes with the Air Force's new B-21 Raider stealth bomber for money. We'll also be watching the military's planning for the fighter jets of the future and the fate of the existing fleets of warplanes, like the F-15, which I flew in this year, F-16 and F/A-18. We haven't mentioned ISIS yet, but one thing we've been tracking is the reported shortage in American stockpiles of missiles and bombs. Lockheed Martin has stepped up missile production and Raytheon is anticipating increased sales as the military campaign will enter year three in 2017.
Thanks for Making the
GBB

 Great!

Eight months ago, we came up with an idea for the Global Business Brief, a weekly look at the happenings across the business of defense and security. To be honest with you, the thought of writing a weekly column was daunting. Moreover, my editors wanted each column to include personality, not an easy task for a guy who's had it driven into his brain over 15 years in  journalism to never insert yourself into a story. Plus, what would I write about? More importantly, would anyone even read it? But you have read it, and tens of thousands of you have subscribed and are reading each week. It's truly humbling. We launched on July 21, the week after the Farnborough Air Show in England. This is our 22nd edition (the archive is here), and our last of 2016. Stay-tuned for more in 2017. I always want your feedback, so please send it along to mweisgerber@defenseone.com or hit me up on Twitter: @MarcusReports. And if you haven't already, make sure you subscribe! Happy holidays!